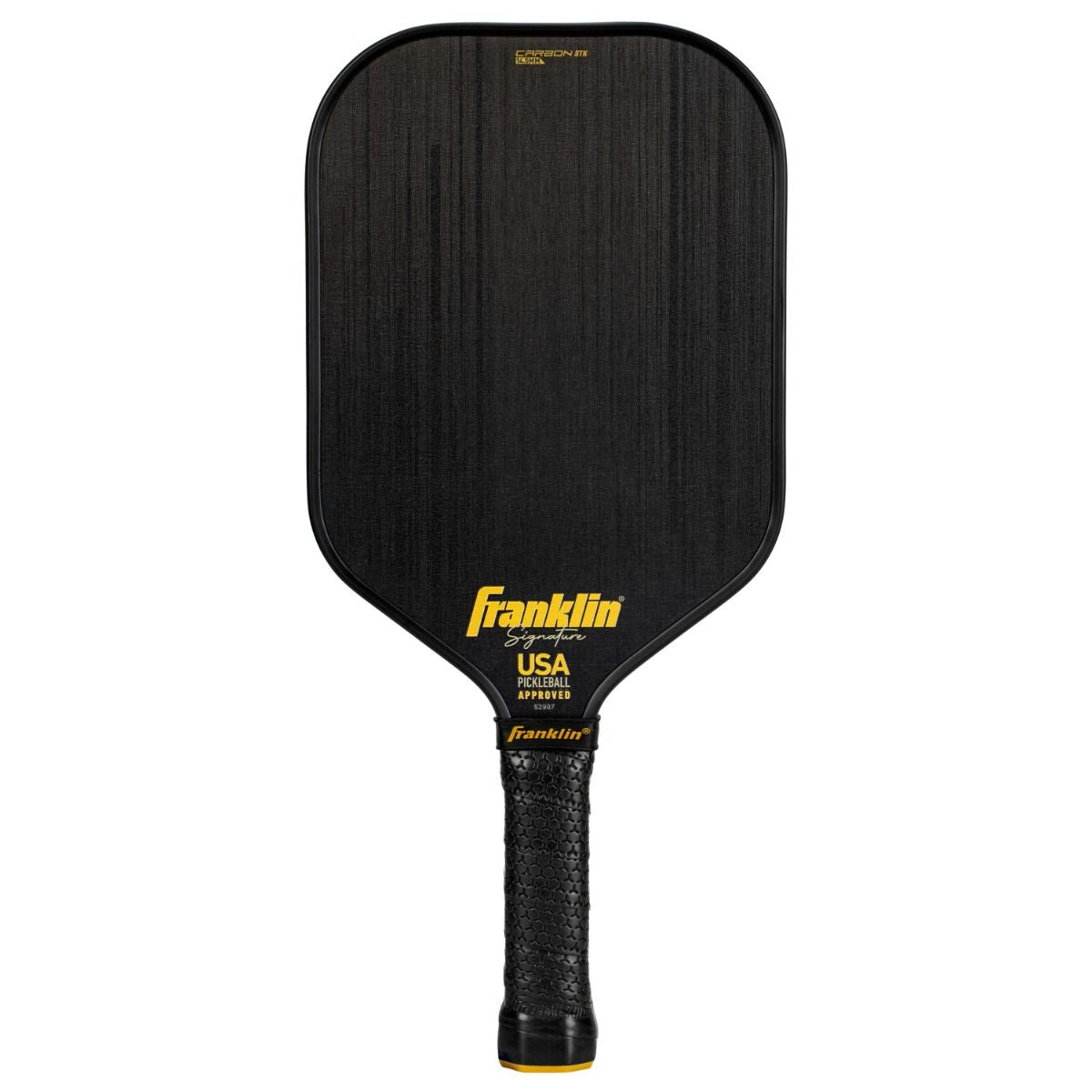 Franklin Carbon STK Black Pickleball Paddle
Pickup currently unavailable at VOLT Sports @ The Browns Bay Racquets Club
Franklin Carbon STK Black Pickleball Paddle
VOLT Sports @ The Browns Bay Racquets Club
Pickup currently unavailable
4 Woodlands Crescent
Browns Bay
AUK
Auckland 0630
New Zealand
+64212391353
The Franklin STK Carbon Black Pickleball Paddle!
Elevate your pickleball performance with the Franklin STK Carbon Black Pickleball Paddle, an USA Pickleball (USAPA) approved paddle, perfect for both recreational and competitive players. Get ready to experience top-quality design and high performance, ensuring one-of-a-kind pickleball gameplay!
Key Features of the Franklin STK Carbon Black Pickleball Paddle:
Carbon STK™ Carbon Fiber Surface:

The Franklin STK Carbon Black Pickleball Paddle is crafted with a unique Carbon STK™ carbon fiber surface layer, which greatly improves traction for optimum spin and finesse shots without compromising pop and power.
Lightweight Polypropylene Core:

The one-piece solid polypropylene core offers a highly durable construction, making this lightweight pickleball paddle built to withstand the test of time and intense matches.
Perfect Dimensions for Control & Power:

Available in 14.5mm thickness, the Franklin STK Carbon Black Pickleball Paddle caters to your preferred paddle size, offering both incredible control and power on the court.
Non-Slip, Comfort Grip:

Thanks to its non-slip, comfortable grip, this high-performance pickleball paddle ensures maximum control during gameplay.
Rugged Edge Protection Band:

The paddle's rugged edge protection band is designed to maintain optimal performance year after year.
Exceptional Performance and Craftsmanship
Carbon Fiber Surface: Our all-new Carbon STK™ surface layer delivers a naturally textured paddle surface, enhancing spin and control on the ball for impressive shot-making.
Enhanced Polymer Core: The 14mm and 17mm thick Poly Pro Core provide a delightful sweet spot that balances control and power, making it a favorite among pickleball paddles.
One-Piece Construction: The singular-piece core construction guarantees maximum structural integrity between paddle face and handle, ensuring enhanced paddle stability and durability.
Premium Grip: Our Pro Series paddles feature an elongated, cushioned 5.6" inch long handle, offering both maximum reach and increased comfort with superior shock absorption.
Lightweight and Durable: These lightweight paddles are designed with an outer edge protection band that extends their lifespan while maintaining speed and agility during play.
Experience the revolutionary Franklin STK Carbon Black Pickleball Paddle and witness incredible improvements in your pickleball game. Don't miss out on this opportunity to experience top-notch performance with a paddle that will last.
Technical Specifications:
Handle Circumference: 4.25"
Weight: 7.6 - 7.9 ounces
Length: 5.6" long, 7.5" by 16.5" paddle
Thickness: 14.5mm